Environmental Laboratories
The environmental laboratories in Navodari and Ploiesti provide real-time monitoring of the quality of air, water, soil, sludge, marine sediments and waste. For intervention in case of accidental pollution, Rompetrol Quality Control is equipped with a mobile laboratory that measures specific indicators for pollutant emissions in the atmosphere, the system being in compliance with the requirements of the European Union.
Continuous monitoring of specific indicators for pollutant sources is carried out by a wide range of tests.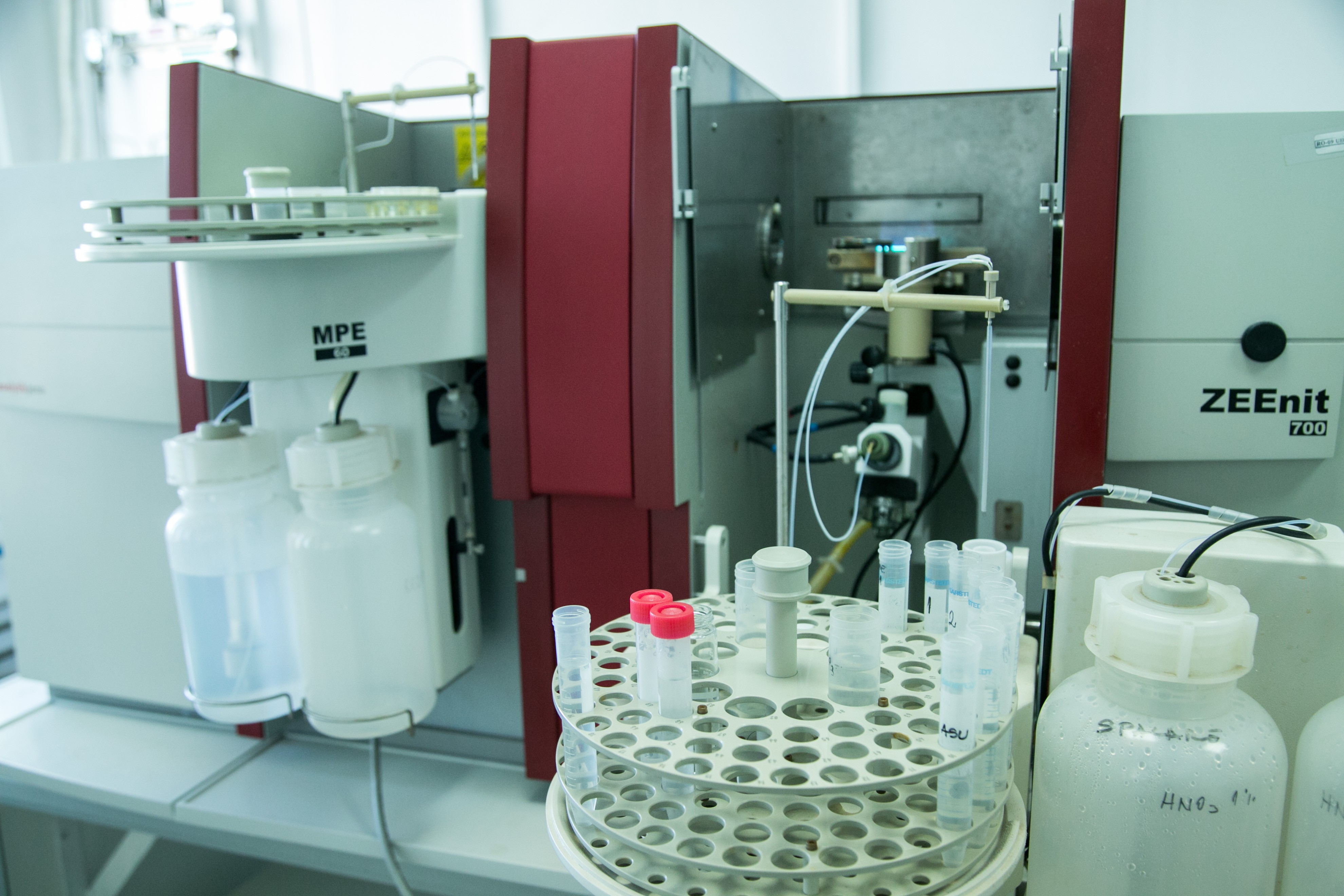 The Environmental Laboratories are comprised of two technical units:
WATER – SOIL TECHNICAL UNIT
WATERS – determining the physical and chemical indicators of wastewater, surface, groundwater and drinking water (pH, conductivity, alkalinity, hardness, sulphides, phenols, ammoniacal nitrogen, nitrates, nitrites, phosphates, chlorides, biochemical oxygen consumption, chemical oxygen consumption, metals – Fe, Cr, Mn, Cu, Ni, Zn, Mo, Pb, Cd, Ar, Hg, hazardous substances, etc.);
MUDS – from ponds, oil tanks, treatment plants (pH, petroleum product, extracts in petroleum ether, moisture, dry matter, mineral substances, volatile organic compounds, metals, etc.);
SOIL – tests of sensitive soils, with agricultural use, as well as for the least sensitive soils used for economic and technical activities (pH, petroleum product, extracts in petroleum ether, moisture, dry matter, mineral substances, volatile organic compounds, metals, etc.);
WASTES: in order to meet our clients, our services offer also includes waste determinations, according to Ord. 95/2005.

TOXICOLOGY TECHNICAL UNIT
AIR – chemical emissions determination (hydrogen sulphide, sulfur dioxide, mono / carbon dioxide, nitrogen monoxide, nitric acid, sulfuric acid, hydrochloric acid, benzene, hexane, methanol, aliphatic hydrocarbons, breathable powders, acetic acid, alcohol, ammonia, toluene, xylene, bromine, benzene, cyanide, etc.); physical emissions (microclimate, temperature, relative humidity, lighting, noise); oxygen concentrations in the air; explosive determinations; flue gas concentrations, etc.;
Professional emissions analysis
The complexity of monitoring environmental factors inside a factory at the size of a refinery has led to the development of a related field for environmental laboratory – such as professional emissions – focused on:
Determining the potential harm of workplaces;
Determination of the noise level and illumination at workplaces;
Determination of weather factors and microclimate at workplaces;
Within the ACIRAR workshop (control, maintenance, and respiratory equipment repair), the company executes checking the gas masks, air supply masks and insulating machines. The workshop has all necessary equipment for these tests, and the staff is qualified and licensed for this task.